In This Issue
Reiki Tip From Hawayo Takata
"If you haven't practiced Reiki for a period of time, and cannot feel the flow, give yourself energy in the first four positions of the first pattern, for at least 15 minutes, on a daily basis, to get Reiki flowing again"
Our Winter Class Schedule is Now Available!
Please visit us at learnreiki.org for details.
Next Month:
Reiki and Food
Welcome to the November 2008 Newsletter. John and I have been enjoying a wonderful fall season. The colors of the foliage have been spectacular this year and the crisp autumn air forms a refreshing contrast to the mildly warm days of New Hampshire summers!

Back by popular demand, in this issue we present you with more Reiki questions and answers by Hawayo Takata. The following questions were taken from a lecture given by Takata in 1975 which was held at the Trinity Metaphysical Center in Redwood City, CA. Reverend Beth Gray, pastor of the center, presented questions from an audience compiled entirely of Takata's Reiki students. The lecture was recorded by John Harvey Gray with Takata's permission. It has been presented verbatim. Correct punctuation is attempted.

Takata often taught by telling stories. In her manner of teaching, which at first glance may appear simple, Takata presented fundamental teachings about Reiki that are truly profound and timeless.

For those of you not yet familiar with Hawayo Takata, she was the Japanese-Hawaiian woman responsible for bringing Reiki to the West. Takata received her entire Reiki training from Chujiro Hayashi, who in turn, received his training from Mikao Usui, the originator of the Reiki system of natural healing. John Harvey Gray received his entire training from Takata. At the time of this lecture, Hawayo Takata was the only Reiki Master teaching in the West; hence her response, "Once you have the contact (attunement) … through me…and that is everybody who is here …"
Dr. Lourdes Gray
Click here to visit our new website

Questions and Answers by Hawayo Takata
ONCE ATTUNED, DOES ONE EVER LOSE THE ABILITY TO CHANNEL REIKI?

Reverend Beth Gray: "If, for some reason one fails to do Reiki for a period of a month or so, does one lose the power?"

Hawayo Takata: "That's a good question. No. Once you have the contact … through me … and that is everybody who is here. Reiki stays with you everlasting. But, it may, it may not, when you are tired, have the full charge come out at one time. You will become quiet, because your battery down here has run down. So, what do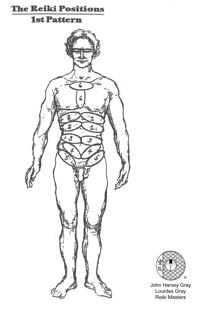 you do to yourself? One, and Two, and Three, and Four (the first four positions of the first Reiki pattern--see illustration). Your Foundation Treatment (the first four positions) has to be done so that you recharge your own battery. And when that is finished … and then when you try to treat people, your energy goes up, because you are filled, you are not empty. A lady that was … had no children, learned Reiki and she treated her husband, who was a professor of a university, and in a few months he got well. And they decided that Reiki was wonderful. His vitality was high. He was treating himself. She was treating herself. But actually, she did not have any patient, or did not work on anybody for seven years. And one morning, when she was going to town, a seven-year-old boy was on his way to school, and when he got at the train station he ran out of the train and then he slipped on the platform. And when he slipped on the platform … this was winter … cold … and he began to have bleeding nose, bleeding nose. And this woman, out of kindness, she said, 'Oh, how very, very unfortunate that this little youngster got hurt.' And so she ran to him, and she pinched his nose, and treated the back of the nape of the neck for stopping the bleeding nose. Just because this was an accident she didn't have to go through the performance of One, Two, Three, Four, but it was an acute accident … happen now, so she went right to the nose and stopped the bleeding. And she was so happy about this result. So, she stopped on her way to, this place of, to the studio of Reiki Center and she made her report, saying that, 'I still have Reiki after seven years of no use.' And so she said, 'I believe that Reiki is everlasting.' Reiki is everlasting. There's only one way you can lose and that is, I have said and I have warned you, that no matter how great you become or what an expert in treating and healing, that you cannot teach unless, you go up to the higher degrees. What you have learned is the First Degree. But, with the First Degree it is good enough to give you protection and also you can help yourself and others."


LACKING SUCCESS WITH REIKI SELF-TREATMENTS

Revered Beth Gray: "There are those who do a lot with Reiki and there are those
who do nothing. We are not speaking of the latter. When we are faithfully practicing
Reiki, why is it that we have no success with our own pains?"

Hawayo Takata: "Success with what?"

Reverend Beth Gray: "Our own pains. Why aren't they successful on themselves?"

Hawayo Takata, "Oh, okay. Not successful on themselves? In that case, I say, I say it again, that there, that may be their reactions, especially in rheumatism. If it's the cause … that they have had the cause for about twenty-five, thirty years. You don't expect that to get over, overnight. So you have to keep on trying. But then again, you have to get out. Relieve your toxins. You have to have reactions. Reactions are the physical change, the body change, are all the waste sickness that comes out. Give a chance so that the body does change and then you have to rebuild. By rebuilding, you have to change your diet. If it's chronic it's going to take time. If it's anything acute, the treatments, will be more effective, and in a few weeks … if it's an acute, once or twice, it's gone."

WASHING HANDS AFTER REIKI

Reverend Beth Gray: "Is it necessary to wash the hands after we do the healing?"
Hawayo Takata: "It is if you are treating someone else. Why not? I wash my hands every time I have a new patient. I don't use my hands without washing. I wash my hands. All the dentists wash their hands, whenever. Isn't that common sense? Isn't that common sense? But not a necessity because of the fear that this will, the illness will come to you. No, that won't happen. But then, when you touch a patient, or when you treat the patient, or anybody, it is proper to wash your hands. But not with rushing, saying, 'Oh, I got get rid of ….' No we don't do that. It's not … it's not that … it's not contagious, in other words."

Announcements: NEW! GIFT CERTIFICATES AVAILABLE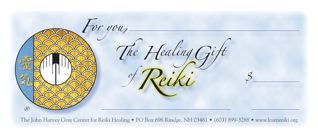 REIKI: The gift that lasts a lifetime. Help your loved ones achieve a deeper sense
of Spirit-Mind-Body balance and Wellness. Give them the healing gift of Reiki this holiday season! For many of us, the beginning of a new year symbolizes the time and opportunity to start over again. It is a perfect time for making powerful personal commitments toward positive change and healing. Reiki is one of the simplest, easiest and most effective natural healing methods available. Anyone can learn Reiki. No prior experience is necessary. Giving effective treatments with Reiki does not require months or years of intensive practice. You can start giving yourself, others and pets powerful and effective Reiki treatments immediately after completing the training! Please order now to help your friends and loved ones get started on their Reiki path. A beautiful gift certificate will be mailed to you or to the designated person. Order no later than 12/15/08 if you would like to receive the certificate before 12/24/08.
Thank you for taking the time to read our newsletter. John and I wish you a healthy, peaceful, and prosperous month. Please look for next issue in December.