Dear Reiki Friends,
It is with great joy that John and I bring you the April 2009 newsletter.
We hope that you will find each newsletter interesting and helpful in your Reiki practice. Our goal is to present you with information about Reiki, taken from John Harvey Gray's vast storehouse of knowledge and experience, first acquired from his training with Hawayo Takata and later through his 34 years of practicing and teaching Reiki. I, Lourdes, bring to you my own extensive experience, first learning from John and then practicing and teaching Reiki alongside him for the past 15 years. Our desire is that this information adds to your knowledge of Reiki and provides you with more tools for your Reiki practice. We always enjoy hearing from you, please send us your questions and comments, and also your Reiki healing experiences that you would like to have published in our newsletter.
If you haven't already, please check out our new free Reiki Videos. The first video, "Introduction To Scanning" is a demonstration of John Harvey Gray's highly acclaimed aura and chakra scanning technique which was presented by John in front of a live Reiki I class. The second video, "Reiki Self-Treatment" is a lecture on the topic of Reiki self-treatment by John Harvey Gray and Dr. Lourdes Gray, also presented in front of another live class. Both videos are very informative and can be viewed right on your browser. We will be adding more videos to our website in the months to come so please enjoy and stay tuned!
Yours in love and peace,
Dr. Lourdes Gray and John Harvey Gray
Click here to visit our new website
Reiki Healing Stories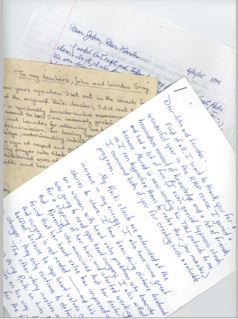 It is always inspiring for us to hear about experiences others have with using Reiki. Very often, our students send us their stories about their own Reiki experiences. In this issue, we are going to share with you a few of these stories of healing, all presented verbatim from direct correspondence of our students.
Because all living things, big and small, benefit from the healing Reiki brings, we have also included a wonderful story about a special dog, named "Reilly."
By Dr. Lourdes Gray
Hi Lourdes –
You and John will love this story –
A friend of mine, Tina Davenport (who did Reiki 1 with John), was diagnosed this fall with stage 4 lung cancer. The doctors at Dana Farber in Boston felt it had spread from a bout of colon cancer she had six or seven years ago. They also found some spots in her liver and her abdomen, and their prognosis was pretty grim. They really didn't think they had much chance of saving her, but they planned six weeks of chemo, followed by a scan, then another six weeks of chemo – followed possibly by surgery. They were especially concerned about the spots in her abdomen. If they were malignant, there was no hope for her.
She came to me to ask for help, so I started doing Reiki on her right away. I did two regular treatments, and the rest have been absent treatments. I reviewed the whole procedure with her, and made her promise to work on herself every day. I also reminded her to always rest her hands on her body, so the Reiki would keep flowing.
The first thing that happened is that a week later, the scan showed no growth in the spots on her abdomen. The doctors were amazed, because those cells should have been growing rapidly. (To this date, three months later, they still have not grown.) Tina went through the first six weeks of chemo, then on December 24, they did another scan. The tumors in her lung have shrunk so dramatically that the doctors can't figure out what's going on. The spots in her liver and her abdomen have disappeared. They've never seen anything like this. They almost decided to cancel the second round of chemo – but decided to substitute another kind which involves just a few pills each day. They're thinking that if the tumors continue to shrink, they may not have to do the surgery – but since they've never seen anything like this, they don't know what to plan
I wanted to share this Reiki success story with you. I know you'll appreciate it…..
Virginia Slep
(RPM8)
Hi Lourdes –
You and John will enjoy this: I have a friend who has some serious medical problems (seizure disorder, lupus, arthritis, fibroid tumors in her lungs, anemia, IBS) but I've never been able to convince her to let me do Reiki on her. Finally, I offered to do several free treatments as a gift, and she accepted. We did two sessions, then she had one of her physical therapy sessions. The therapist's first comment was "What in the world have you been doing different??? Your whole body is moving differently."
I just love it!!
Love, Virginia
Hi Lourdes –
I just wanted to update you and John about Judith. If you recall, she was diagnosed with cancer on her liver, bile duct, and gall bladder, and when they operated, the doctor just sewed her back together and sent her home. I did one session of Reiki on her two weeks ago, and – since she had been attuned by John back in the late 80's – I taught her how to do Reiki on herself and told her I wanted her to be doing Reiki on herself pretty much non-stop.
She came for another Reiki treatment this week, and told me that the doctors are amazed at her liver function tests. Evidently a normal result is around 50 – 60. After her first Reiki treatment, her tests went from 6000 down to 600 and then down to 60.
You'd be amazed at how clear her energy field is. (Well, no, you wouldn't be surprised at all, actually!) Even before I started this second treatment, I could feel her energy a good two feet above her body. It's wonderfully clear and vibrant.
Thanks again for the referral. I'll let you know how she's progressing.
Love, Virginia Slep
Dear Lourdes and John Harvey,
I just wanted to thank-you both for teaching and sharing your knowledge and wisdom to me in Reiki. I hope that I can give comfort and healing to as many people that God will allow me.
I would like to share with you what happened after using the "eights" technique on a client of mine. This person had been diagnosed with Fibro Myalgia 9 years ago and has been living in pain and has suffered with "flu" like symptoms every day. She has had little to no energy and had been confined to bed for months at a time. This situation, unfortunately, led her to lose her job, friends and the freedom to enjoy every day living. I have been treating her for about 3-4 months, and in that time her energy level has improved. She is able to go out with out being attacked by exhaustion. She has been able to go for 2 days before the exhaustion starts to set in. She has always had the "flu" like symptoms. Some days better than others, but non the less, they have always been there. That is until I did the "8's" technique. That, along with having her go to her "comfort" zone, has given her "flu" free hours. At first I didn't know what was wrong with her. She just stood there staring at me. Then she started to cry. She said for the first time in 9 years she did not have those symptoms. I wish you could have seen her face. She was so over whelmed she had to sit for a while. She just wept. The feeling I got from helping her, it was unbelievable. I have, since then, treated her 3 times and each time she has been given 4-5 hours of "flu" freedom. I see only good things ahead for her. Again I just want to thank-you for sharing your knowledge with me.
Well, I guess I'd best close for now. Please give my best to John Harvey.I am as ever,
Rosemary
HEALING THROUGH LOVE & REIKI
By Paulette Peckol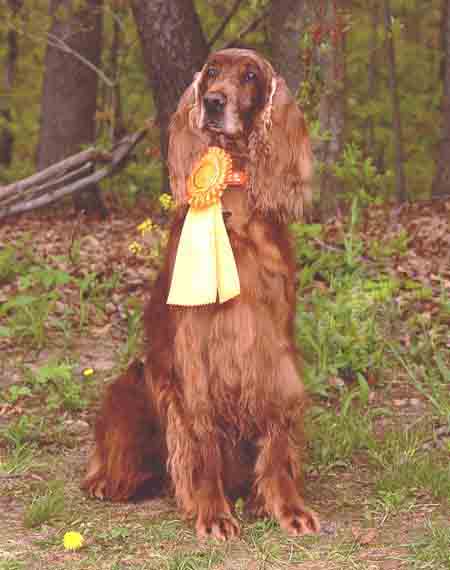 My Irish setter Reilly & I were blessed with each other in a remarkable partnership beginning 14 years ago. Though purchased as a home companion, I began an extraordinary journey with this once-in-a-lifetime Irish setter. Reilly's greatest desire was finding and pointing birds, and we excelled in our partnership, with Reilly earning an AKC Master Hunter title with me training and handling him. Our hunting activities always thrilled me; my heart soared with pride while watching Reilly work a field.
Reilly was diagnosed with bone cancer (osteosarcoma) when he was 10 _ years old. This is a very aggressive cancer that rapidly metastasizes--usually to the lungs. Because he was in excellent health otherwise, I decided to have Reilly's front leg amputated, followed by a chemotherapy protocol. Reilly received Reiki therapy before and after each chemotherapy session, and I could visibly see him improving and relaxing from each Reiki session. His oncologist had cautioned me about side effects of the chemical toxins from chemotherapy (including vomiting, diarrhea, and lethargy), but Reilly had no side effects-- no restlessness, no sickness -- after chemotherapy sessions. It is wonderful to experience the healing power of Reiki therapy on dogs!
Reilly's intense desire to hunt sustained us through the treatment and recovery from bone cancer, and Reilly and I continued to hunt with enthusiasm and stamina for several years. He became one of the rare survivors from this type of cancer.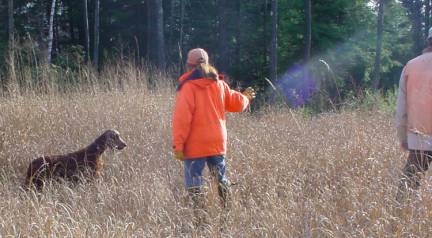 Our partnership was enriched as Reilly slowed with age. Though he could no longer hunt for long periods or over great distances, Reilly relished the frequent fieldwork and I loved watching him hunt. Reilly had his 14th birthday pheasant hunt with a lot of help from his human friends due to deep snow cover at that time, but he still had the joy and exuberance of life. Then within the month, he chose the time for his departure. Reilly let me know that we could no longer continue our earthly partnership, and I honored his desire because I love him so much. Reilly had a peaceful passage, smelling the scent of birds, with me stroking his head telling him what a good boy he is on January 2008. I celebrate and cherish forever this legendary Irish setter and our remarkable 14-year partnership.
Now, a little over a year after Reilly's passage, I strive to appreciate each day to its fullest, taking joy in all life's moments. My journey with Reilly taught me many things: about life, about myself, and most of all, about love.
Announcements: Reiki Certification for Kids

This is a Reiki First Degree Certification specifically designed for children six to twelve years of age. The class is both playful and fun but accurate. The Reiki I attunement given to each child is the same one that all of our Reiki students receive in our Reiki I Program. The young student will learn the history of Reiki, learn to scan the energy field for general physical vitality and "zings" (zings being indicators of something that is not the norm), learn self-treatment, learn emergency treatments, and learn to give a complete Reiki session to anyone ... including other children, adults and pets. He or she will receive a wallet-sized card Reiki I Program Certificate upon completion of the program.
This is a gift to your child that continues to give throughtout his or her lifetime. He or she can self-treat and help others in situations requiring immediate aid, when no one else who could help is in the vicinity. Reikihas a very calming effect on the recipient, so it is ideal for anyone experiencing physiological responses to stress or injury.
Reiki For Kids - July 18th and 19th.
12:30 p.m. to 4:30 p.m. Saturday and Sunday. Cost: $75.00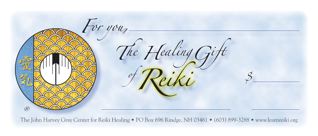 REIKI: The gift that lasts a lifetime. Help your loved ones achieve a deeper sense of Spirit-Mind-Body balance and Wellness. Give them the healing gift of Reiki! For many of us, the beginning of a new year symbolizes the time and opportunity to start over again. It is a perfect time for making powerful personal commitments toward positive change and healing.
Reiki is one of the simplest, easiest and most effective natural healing methods available. Anyone can learn Reiki. No prior experience is necessary. Giving effective treatments with Reiki does not require months or years of intensive practice. You can start giving yourself, others and pets powerful and effective Reiki treatments immediately after completing the training! Please order now to help your friends and loved ones get started on their Reiki path. A beautiful gift certificate will be mailed to you or to the designated person.
Thank you for taking the time to read our newsletter. John and I wish you a healthy, peaceful, and prosperous month.