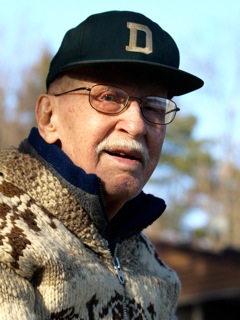 "The only true healers are the Reiki energy and the body receiving the energy."

John Harvey Gray
10 New Year's Resolutions for Reiki Practitioners

A happy, healthy and prosperous New Year to you! The arrival of 2012 heralds a Great Energy Shift that has been prophesied since ancient times. On the winter solstice of December 21, 2012, the planet Earth and all life on it will shift to higher dimensions, bringing forth a higher energy. This shift has already begun. We can use this new energy to bring powerful changes and healing to our lives. As we start 2012, let's reflect for a few minutes on some of the most important goals for Reiki practitioners to add to their New Year's resolution lists.

1. Resolve to practice Reiki self-treatment regularly. Reiki Practitioners who practice Reiki self-treatments experience substantial benefits to their overall health, i.e., physical, emotional, mental and spiritual. Make daily Reiki self-treatment a new habit for 2012.

2. Resolve to start a daily Reiki meditation practice. Reiki meditation (meditating while you practice Reiki self-treatment) reduces stress, lowers blood pressure, and improves immune function. There are hundreds of benefits to meditation validated by more than 600 studies.
3. Resolve to eat healtier foods. Reiki is intimately connected to nutrition. Hawayo Takata always combined sound nutritional principles with the practice of Reiki. By doing so, you will get better results from your Reiki sessions. Remember, you are what you eat.
4. Resolve to make the time to give Reiki sessions regularly to others. Help friends, family members and pets to be healthier and feel better by giving them regular Reiki sessions.
5. Resolve to review what you have learned in Reiki class. Review your notes from your Reiki classes and brush up on what you already know, or take a Reiki class to review the material you have learned earlier.
6. Resolve to improve your Reiki skills. Select a Reiki skill that needs improvement and practice it.
7. Resolve to incorporate Reiki while on your spiritual path. Reiki is not just for giving sessions. Reiki is a way of life. Reiki gently teaches you the lessons you need to learn and guides you forward on your spiritual path.
8. Resolve to apply the Reiki skills you have learned to other areas of your life. Find creative ways of using Reiki. For example, give Reiki to your food before eating, to your drinking water, and to your house plants.
9. Resolve to share your knowledge of Reiki with friends and family. Spread the good word. Tell your friends about Reiki.
10. Resolve to continue with your Reiki education. Become a more powerful and effective healer. There is much more to

be

learned ...
Reiki Gift Certificates at 15% off!
Reiki: The gift that lasts a lifetime.


Help your loved ones achieve a deeper sense of Spirit-Mind-Body balance and Wellness. Give them the healing gift of Reiki this holiday season and save 15%! Get a $50 gift certificate for just $42.50!


Available in a full range of denominations, a John Harvey Gray Center for Reiki Healing gift certificate is a perfect gift for someone interested in starting or furthering their training in Reiki healing.

For many of us, the beginning of a new year symbolizes the time and opportunity to start over again. It is a perfect time for making powerful personal commitments toward positive change and healing.

If you have a family member or a friend whom you feel could benefit from learning Reiki, please consider the lasting gift of a Reiki Workshop this holiday season! You choose the amount of your gift, your Reiki student can choose the class and schedule that works for them.
We will mail the certificate to you, or directly to the gift recipient using the address you indicate for shipping. If we're sending it directly, be sure to tell us how to sign the card!


Order Your Gift Certificate Now
Coming Up! Reiki I Workshop
January 21-22, 2012
Sign Up Now and Receive a 15% Discount on This Class!

Reiki, pronounced "ray key", means Universal Life Force. This energy is all around us, and we can channel it.

The Reiki process is a simple method of hands-on healing as developed by Dr. Mikao Usui, a minister from Kyoto, Japan. After training, Reiki energy flows through the arms and hands of the Reiki healer and into the cells of the person being treated. The energy is used to normalize the physiological processes of the body. It helps to reestablish balance and harmony on the physical, emotional, and spiritual planes so that the natural function is restored. Reiki differs from other healing methods in that a specific attunement process is used to prepare students for the flow of healing energy. This protects them from either transmitting or absorbing any negative energetic patterns.

By the end of this First Degree Reiki Class you will be able to:


Deliver effective and powerful Reiki treatments for yourself, family, friends, clients and pets.
Understand the purpose of the chakras and how they work, and utilize the information intuitively to bring balance and healing to the self or others. Scan the chakra centers of the person receiving treatment and perceive areas of reduced vitality flow.
Appreciate how attitudes can create dis-ease in the mind and emotions, and how the physical body might be affected.

Why this class is taught in two days instead of one day:

This course is packed full with over 16 hours of essential (First Degree) instruction and supervised hands-on practice. It would be impossible for one to try to squeeze this course into a one day class ... 50% of the material would be left out! Our goal is to empower you to become the best Reiki practitioner you can be ... to be knowledgeable and confident when utilizing these powerful techniques. We always strive to maintain the highest standards in Reiki training with "no cut corners."

View our Reiki Class Schedule or click on our Reiki Class Registration form to sign up for the First Degree Reiki Class at the John Harvey Gray Center for Reiki Healing today.

Cost: $150* with 15% discount only $127.50
Date: January 21-22, 2012
Hours: 10:30 a.m. to 6:30 p.m. Saturday and Sunday
Location: 9 Blake Street, Jaffrey, NH 03452
Deposit of $50 is required at registration; the balance is due on the first day of the workshop.
($75 - to repeat the workshop if you have taken it before with John or Lourdes Gray)
Deposit of $50 required at registration, balance due at start of workshop. The 15% discount will be applied to the balance due the first day of class.

Register Now and Save 15% on the January 21-22, 2012, Reiki I Workshop!
OUR CD EMOTIONALITY IN THE CHAKRAS AND BALANCING MEDITATION IS AVAILABLE NOW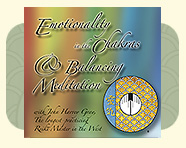 John Harvey Gray's groundbreaking theory and balancing meditation were developed based on his many years of experience teaching and practicing Reiki.

Extending on Wilhelm Reich's theory of body armoring, John demonstrates how emotional tension, held in the muscles, decreases the energy flow in the chakras and deprives them of essential life force. John then teaches you a very short but extremely powerful meditation to release this tension, balance your chakras and improve your overall energy level.

Understanding and developing the body's energy centers, i.e., the chakras, enables you to accelerate your spiritual advancement. Practicing the chakra balancing meditation brings a deep sense of peace and balance within the self. As you continue using the chakra balancing meditation, you will enjoy a greater sense of mental clarity, emotional balance and spiritual awareness. For more information, or to order, please visit us at learnreiki.org. Thank you.
New: Our Book "Hand To Hand"
Now a Kindle Edition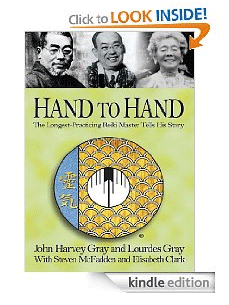 Having a wealth of Reiki information at your fingertips just got easier than ever with the new Kindle Edition of our book Hand To Hand.

Discover the history of Reiki, how it works and how attitudes that create dis-ease in the mind and emotions affect the physical body. Learn specific techniques including body-scanning procedures to discover areas of reduced vitality flow, hand positioning to maximize the effects of a Reiki treatment, self-treatment and emergency procedures. John and Lourdes tell their personal stories and discuss the meaning of Reiki mastership.

Hand To Hand offers both beginner and experienced Reiki practitioners a rich and solid foundation for the practice of Reiki.

Buy "Hand To Hand" Kindle Edition Now -- Only $9.99




The John Harvey Gray Center for Reiki Healing is Now on Facebook!

The John Harvey Gray Center for Reiki Healing is proud to announce that we now have a Facebook page! Learn about the latest happenings at the Center. We are in the process of adding photos, videos, Reiki tips and tricks, and much more! Join the fun! Please come visit. You will find our new Facebook page to be fun, exciting, interesting, and packed full of useful information!



Copyright Disclosure

The information, photos and images within this newsletter and learnreiki.org are the copyrighted and trademarked property of the John Harvey Gray Center for Reiki Healing, the Usui-Gray Integrated Reiki System, Inc., and others. No reproduction of this information, photos or images may be produced in any manner without first obtaining written permission from learnreiki.org. Brief quotations of the aforementioned are permitted as long as credit is given to learnreiki.org for being the source of this material. If you wish to use some of learnreiki.org's information, photos or images on your website, please follow these instructions: 1.) First, write a brief summary on your website describing the information, photos or images you wish to use from learnreiki.org. 2.) Next, create a link from your website to the information, photos or images on learnreiki.org to which you wish to link. Learnreiki.org maintains a newsletter archive. There, you will find copies of all our previous newsletters. Please feel free to browse. Thank you.

Disclaimer

The material and techniques presented on learnreiki.org are for the Reiki student's learning purposes only. In no way it is to be considered medical advice. Reiki is not a substitute for medical care. If you or your pet have a health related condition, and would like to use Reiki, first consult a licensed medical practitioner or licensed veterinarian, whichever the case may be, and follow the advice of your licensed medical professional in regards to the administration of Reiki for your particular health condition.